NHS prescribed record number of antidepressants in 2016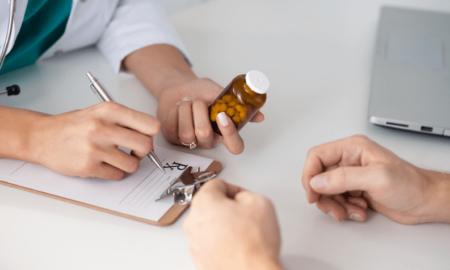 Antidepressants : The NHS prescribed a record number of antidepressants last year, fuelling the upward trend that has seen the number of pills given to patients more than double over the last 10 years.
However, this rise in figures raised many questions whether the rise is due to doctors handing out the drugs too freely, or more people are getting help to tackle their anxiety, depression and panic attacks.
Prescriptions for 64.7m items of antidepressants – an all-time high – were dispensed in England in 2016, the most recent annual data from NHS Digital showed. 3.7m more than 2016.
It also represents the 108.5% increase on the 31m antidepressants which pharmacies dispensed in 2006.
There are no figures for how many people are being given antidepressants, though, as NHS Digital do not record that. NHS Digital said, the 64.7m items were used to treat depressive illness, generalised anxiety disorder, obsessive compulsive disorder and panic attacks.
The 64.7m items dispensed in 2016 cost the NHS £4.12 each on average, or £266.6m of its overall £9.2bn annual spend on medication of all types. However, that is less than the £291.5m the drugs cost in 2006, due to antidepressants have more than halved in cost from the £9.39 items typically cost a decade ago.
Leading doctors defended the increase in the use of drugs which have been accused of causing dependency in some patients, their potential side-effects and not always relieving symptoms.
"While at face value the rise might seem alarming, it could also be indicative of better identification and diagnosis of mental health conditions across healthcare, and reducing stigma associated with mental health in society, leading to more people with mental health conditions seeking medical assistance," said Dr Helen Stokes-Lampard, the chair of the Royal College of GPs.
"Both would be positive steps forward as we strive for parity of esteem between physical and mental health."
The drugs can be of real value to patients, Stokes-Lampard added.
"Antidepressants can be effective drugs when used appropriately and they do help a lot of patients. Nevertheless, no doctor wants their patients to be reliant on medication, and where possible we will always explore alternative treatments, such as talking therapies."
However, she also added, "there is a severe lack of these services available in the community, where they could be of great benefit to patients". Patients and GPs need more such services to exist, she said. And she urged NHS England to deliver on its commitment of 3,000 new mental health therapists, to be based in GP surgeries, as a matter of urgency in order to help improve care for the mentally unwell.
The Royal College of Psychiatrists also endorsed the value of the drugs. While mild depression can be treated with talking therapies, "there is evidence that for people who have recurrent episodes of depression longer use of antidepressants reduces incidence of relapse and in certain situations this will be clinically appropriate," said Dr Kate Lovett, dean of the college.
"Antidepressants are used in the treatment of both depression and anxiety disorders. They are an evidence-based treatment for moderate to severe depression and their prescription should be reviewed regularly in line with clear national guidance," she added.
NHS Digital's annual report on the prescription of all dugs in England shows the increase intake of pharmaceutical products. The total number of prescriptions dispensed has risen 46.8% in the last decade, from 752m items in 2006 to 1.1bn last year. The average number of items prescribed for each person has gone up over that time from 14.8 to 20.
Drugs for diabetes cost the NHS the most: £984.2m or £2.7m per day. The cost of those rose by £47.6m (5.1%) between 2015 and 2016 alone.
But more drugs are prescribed for high blood pressure and heart failure – 71.5m items last year, up 50% since 2006 – than any other medical condition.
The greatest increase in cost for any type of medication over the last decade has come with anticoagulants and blood-thinning drugs. Costs have gone up by £76.6m (34.5%) over that time to £298.7m last year.
The £9.2bn the NHS spent on drugs overall last year was slightly – £61.8m (0.7%) – less than it spent in 2015, probably because doctors are prescribing more generic medication. But still the total annual bill has risen by 12.3% since 2006.
Resource: The Guardian